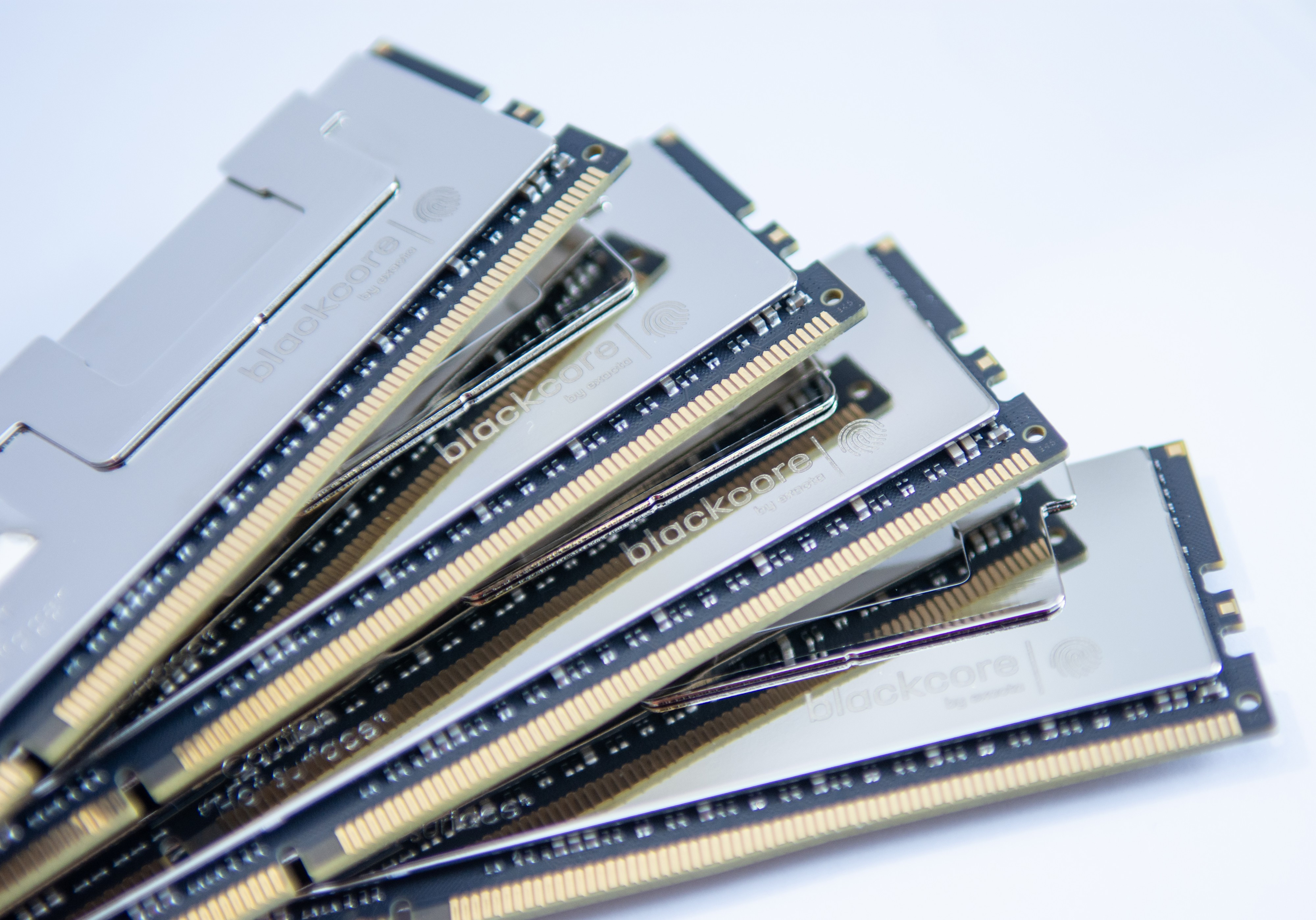 We are excited to announce that custom, latency tuned DDR5 UDIMM + RDIMM are now available across the Blackcore GENERATION 3 range of Sapphire Rapids and Raptor Lake systems.
We've tuned each kit for the best latency at each capacity level, as well as incorporating a high-performance TIM and custom heatsink for improved thermal management.
Blackcore DDR5 ECC RDIMM is available for order on SPR-M + SPR-X platforms in 64GB, 128GB, 256GB, and 512GB configurations
Blackcore DDR5 Non-ECC UDIMM available for order on RPL platforms in 32GB, 64GB, and 128GB configurations
Configure your system now or contact your account manager to learn more.
Read on for our CTO's Technical Overview...
At Blackcore we have been tuning the RAM in our systems for years, we do this to extract the lowest access latency possible whilst maintaining good bandwidth. We know that in an ideal world, we'd all like to avoid touching RAM during runtime, but we also know that this is rarely actually achievable. Therefore, optimizing RAM access is a must for all those cases where data doesn't fit in L3 cache.
DDR5 has made a splash in recent years in the consumer segment alongside the release of Intel's Alder Lake platform, with gamers weighing up the massively increased DDR5 bandwidth versus the impressive performance of the supremely tweaked and mature DDR4 platform. This was purely a UDIMM based technology, meaning no ECC but completely unlocked - allowing gamers and enthusiasts alike to tweak and adjust frequency and memory timings to their hearts content.
DDR5 presented a new challenge and reset a lot of the learnings from DDR4. Onboard PMIC and integrated dual channel management lead to significantly increased frequency and bandwidth, as well as much reduced power draw. This however caused a huge uplift in primary RAM timings and 4-DIMM configurations were bordering on unusable.
Two years ago, we spent a significant amount of time tuning DDR5 UDIMM for our Alder Lake launch, and thanks to our efforts we were proud to launch the 32GB systems with latency almost on par with some of the best DDR4 kits available. 64GB proved slightly more difficult, as the platform was struggling with higher capacity DIMMs. And whilst 128GB was technically supported, running with any sort of impressive frequency or timing was a pipedream.
A year later, Raptor Lake launched with further improvements to the IMC and memory subsystems, whilst motherboard manufacturers had a better understanding of the PCB and trace layouts required. Alongside our increased knowledge and increasing experience with DDR5 we were able to launch a much more mature platform. We launched 32GB, 64GB, and 128GB variants, with the 64GB and 128GB parts significantly improved and almost matching 32GB performance.
Now, another year or so onwards, and the elusive Sapphire Rapids platform has launched, bringing with it DDR5 in its RDIMM form. Traditionally, RDIMMs are focused on the enterprise sector and feature full ECC, but more importantly, they have always previously been fixed to JEDEC standards. For DDR5, this is currently 4400MHz - 4800MHz depending on the number of DIMMs per Channel (DPC).
Luckily for us, thanks to some of those architectural changes in DDR5, the introduction of the Intel® Xeon® 2400/3400 CPUs, and their associated W790 chipset, overclocking of RDIMM is now a reality.
Working with a new memory partner, we set to work on creating a range of DDR5 SKUs that would elevate our Blackcore systems. We took our existing knowledge from UDIMM and found that surprisingly a lot of the learnings carried over. Whilst outright speed and super tight timings were still the realm of UDIMM, we found that in general a comparatively similar set of tuned frequency and timings was achievable. Using our preferred settings, we were able to demonstrate up to 20% reduction in latency vs standard DDR5.
Non OC
64GB (4* 16GB) 4800MHz, default timings

OC
64GB (4* 16GB) 5600MHz, Blackcore timings


Above you can see how the latency compares between our tuned DIMMs and a generic DDR5 RDIMM setup in Intel's MLC latency matrix benchmark. Test is run on Rocky 8.6, kernel 5.18, all other settings are identical.
Typically, as you increase the density of the DIMM, the overclocking potential decreases. This was very familiar on DDR4. However, we discovered that our 16GB and 32GB DIMMs were surprisingly similar in behavior, meaning that once tuned, 64GB and 128GB configurations are largely similar in performance.

64GB DIMMs take a slightly larger dip in performance, but to be honest, this is to be expected. Pushing 4 or even 8 DIMMs of 64GB to 6000MHz is impressive enough in itself, and still offers a 18% reduction in latency vs the generic 64GB configuration.
Would you like to run benchmark?
We're always looking to be transparent, so if you'd like us to run a benchmark of your choosing on any of these configs, please get in touch and we can arrange lab time to get the results for you.
At Blackcore, we're always looking to create an edge and push things to their limit. Stay tuned for more exciting developments as we continue to innovate this year.